Isn't That Spatial?
Audio Recording by George Hahn
This millennium, Apple has introduced a string of landmark products: the definitive portable music player, the most popular tablet computer, those ubiquitous wireless earbuds, an iconic lightweight laptop and the standard issue coder's laptop, a new way to pay, a smartwatch that outsells the entire Swiss watch industry. And the iPhone, the most successful consumer product in history. That track record, not the product, is what made Monday's mixed-reality headset announcement so compelling.
The Vision Pro is a technical achievement: Marques Brownlee said the positive aspects were "the best I have seen in any VR headset by a mile" and Robin Roberts looked as if she would hug Tim Cook after her demo. My youngest has already asked for one.
Yet
Yet I believe these $3,500 ski goggles will be the company's first major commercial failure of the century. The device will age as well as candy cigarettes — and Tim Cook knows it. He's reportedly been skeptical of the product, and he never donned the device during the keynote or the "hands-on" session afterward. Can you imagine Steve Jobs wearing the Vision Pro … ever?
Cook reveres Jobs, and Jobs's signature management principle was "focus means saying no." So why did the greatest CEO in history, as measured by shareholder value added, green light the Ishtar of computing products? Hubris, a shift in our culture, and an existential struggle with Mr. Cook's enemy. Hint: It's not Microsoft.
iHubris
Betting against a first-generation Apple product is a bad trade — from infamous dismissals of the iPhone to disappointment with the original iPad. In fact, this is a reflection of Apple's strategy: Start with a product that's more an elegant proof-of-concept than a prime-time hit; rely on early adopters to provide enough runway for its engineers to keep iterating; and trust in unmatched capital, talent, brand equity, and staying power to morph a first-gen toy into a third-gen triumph. So the critical question isn't if the Vision Pro itself is a great product (it's not) but whether it has the genes for success.
I See Dead Products
If you peer around enough corners, you'll start seeing things that aren't there. Headsets are a bad form factor, full stop, and no headset-based product will achieve mass adoption.
The obstacles are seeded deep in our DNA. We're highly discerning about what we put on our face, as it must enhance, not impair our ability to assert dominance, attract mates, and make connections. Jewelry signals wealth and strength. The $250 billion cosmetics industry helps us mimic visual cues for health and reproductive fertility. There is no version of a headset or goggles that makes us seem more appealing. None.
Headsets obstruct our peripheral vision, exposing us to stalking predators. Also, they're uncomfortable. We are a long way from making three screens, a glass shield, and an array of supporting hardware light enough to wear for an extended period. Reviewers were (purposefully) allowed to wear the Vision Pro for less than half an hour, and nearly every one said comfort was declining even then. Avatar: The Way of Water is 3 hours and 12 minutes.
Bad but Expensive
Consumer culture, income inequality, and Bernard Arnault have dulled our response to pricing pain, but $3,500 makes you take notice. After sales tax that's approaching $4,000, for a product that will be obsolete in two years. Two grand a year rivals the lease payments on an entry-level car. Back at HQ, the iPhone, possibly the most utile product in history, costs $1,000 and is viable for three-plus years. Splurging on an 85-inch 4K flat-screen TV will cost you $1,500, but it will last about seven years, and your entire family gets to watch at the same time.
The nosebleed price limits trial, even by influencers and institutions. Media companies and design schools aren't going to buy several of these; they won't be handed out at all-hands or to the person who was closest to the pin at the company off-site. The price will come down, but even at $2,500, will this replace all your Apple products? That's still more than an iPhone, Macbook Air, Apple Watch, Airpods Pro, and four Airtags. This isn't spatial computing, it's spatial consumption.
Missed Connections
The Vision Pro was developed and approved for production in a different time. Covid meant a product designed to use alone at home was appealing. Knowledge workers were working at home, and a reasonable view, notably in Silicon Valley, was that this was the new normal.
But society is recoiling from the isolation era. The dangers of isolation and loneliness have eclipsed the threat of viral contagion. The Surgeon General has declared an epidemic of loneliness. The Times reporter who tried the Vision Pro noted his visceral response upon returning to virtual isolation: "I could feel myself shutting down."
The Vision Pro demo video is a Covid time capsule: a parade of solitary, indoor individuals. The brief family scenes are cringe-worthy. My sons get pissed off when I keep my airpods in at a football match, but we're going to wear headsets at our kids' birthday parties?
AntiMeta
For the first quarter-century of its existence, Apple was defined as much by its competition with Microsoft as its products and advertising. But the two titans settled into an armistice. For a time, it looked like upstart Google would be Apple's nemesis, but that rivalry didn't stick either: each business is so successful in its own domain, the conflict isn't worth the ammunition. This town (Earth) turns out to be big enough for both of them.
However, Tim Cook loathes Mark Zuckerberg. Publicly, Cook's veins run ice cold. Nothing is personal. He smiled when Trump called him "Tim Apple," and gave the president a tour of Apple's Texas factory. But Cook let the mask slip in response to a question about how he'd act in Zuckerberg's position vis-à-vis privacy — "I wouldn't be in this situation" — before plunging a $10 billion shiv in Meta's back, requiring apps to ask iPhone users for affirmative consent to tracking.
The grudge match isn't personal, it's existential. Meta's singular strategic objective is to escape second-tier status and, like Apple and Alphabet, control its distribution. And its path to independence runs through Apple Park. Zuckerberg is spending the GDP of a small country to invent a new world, the metaverse, where Apple doesn't own the roads or power stations. Vision Pro is insurance against the metaverse evolving into anything more than an incel panic room.
Yugo
Apple doesn't have to own the headset category to win the war against Meta, or even sell that many. The company just has to keep the category unsettled and splintered so Meta doesn't own it. It has the cash to play spoiler — it generates over $100 billion per year in free cash flow, more than enough to engage in a high-cost, low-ROI arms race.
Sunday, Meta's Oculus was a mediocre product but still best-in-class. Just 24 hours later, it was the Yugo of tech hardware. Half the memes on Twitter this week were some variation of "lol Zuck big mad." Sure, the Vision Pro is 7x the price of the forthcoming Oculus 3, but consumers believe the price will come down, developers want to design for the highest-quality product, and engineers want to work on it. After 30 minutes in the Vision Pro, influential tech reviewer David Pogue wrote that the display resolution was so clear it made the displays in the Oculus "look like a screen door." This may be the first product in history that's primary purpose is to remind consumers who can't afford it how crappy the competition they can afford really is.
Drive
Three years ago, the Apple product people expected was the Apple Car. The car likely isn't dead, it just isn't the company's focus and won't be coming soon. But as bad as the timing was for a headset, it's that good for a car. The EV market is on fire, with unit sales expected to increase 36% in 2023. (AR/VR headset units declined 20% in 2022 and are expected to rise only modestly in 2023.) And it's anyone's game. Tesla is vulnerable, its design getting stale and its CEO unwinding 280 characters at a time.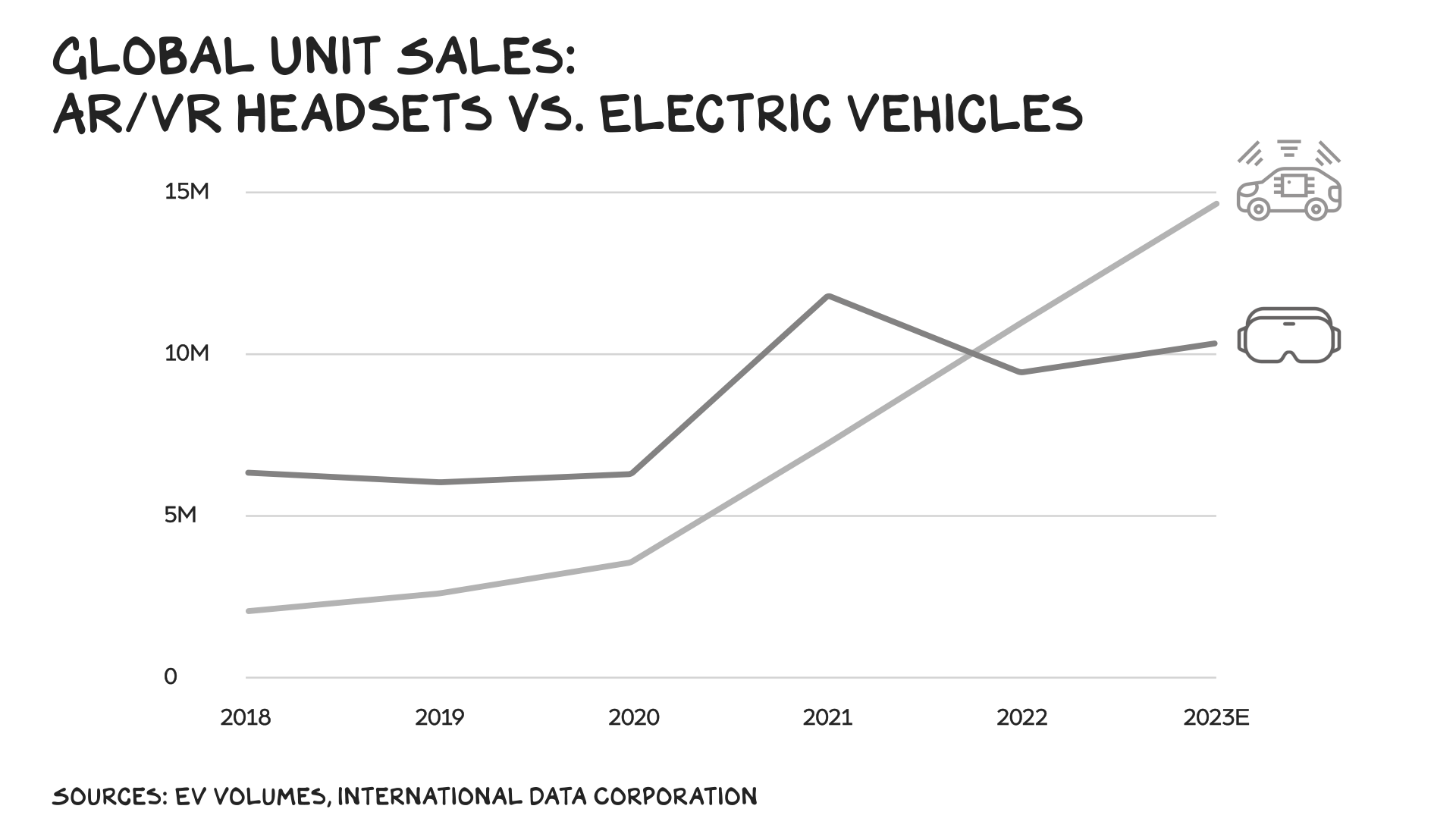 The waiting list for an Apple Car announced this week would have been the most valuable asset ever created in the absence of the asset. It's not unrealistic to believe that Apple could entice 7% of EV buyers on Day 1. At a sticker price of $100,000, that's $100 billion. Think about this. In 24 hours, one of the largest-revenue businesses in history could have illuminated a path to 30% revenue growth. That's the true cost of the Vision Pro.
(Note: I find it comforting to see smart people make stupid mistakes.)
Bias
I believe the Vision Pro will be remembered as a Neanderthal, an evolutionary dead end — a heavy, thick-browed experimental species destined for extinction. Admittedly, there's a bias here. I am troubled by the direction this and other tech platforms and products are taking us. Covid didn't cause social distancing, the tech industry did. We are mammals, and mammals suffer when we are not in the physical presence of other mammals — whether you are an orca isolated in a tank, a dog left at home alone, or a consumer sequestered behind your latest expensive gadget. Real grief, rejection, joy, eroticism, victory, and love are experienced in the presence of others. Headsets render us nauseous, uncomfortable, and alone. Worse, they make us less human.
Life is so rich,

P.S. More on why I think the Vision Pro will not be successful on this week's Prof G Pod, a conversation with NYU colleague Adam Alter on his latest book, "Anatomy of a Breakthrough," and what to do about feeling stuck.
P.P.S. Join our free event on How to Build a More Diverse Leadership Team next Thursday. Sign up here.
73 Comments