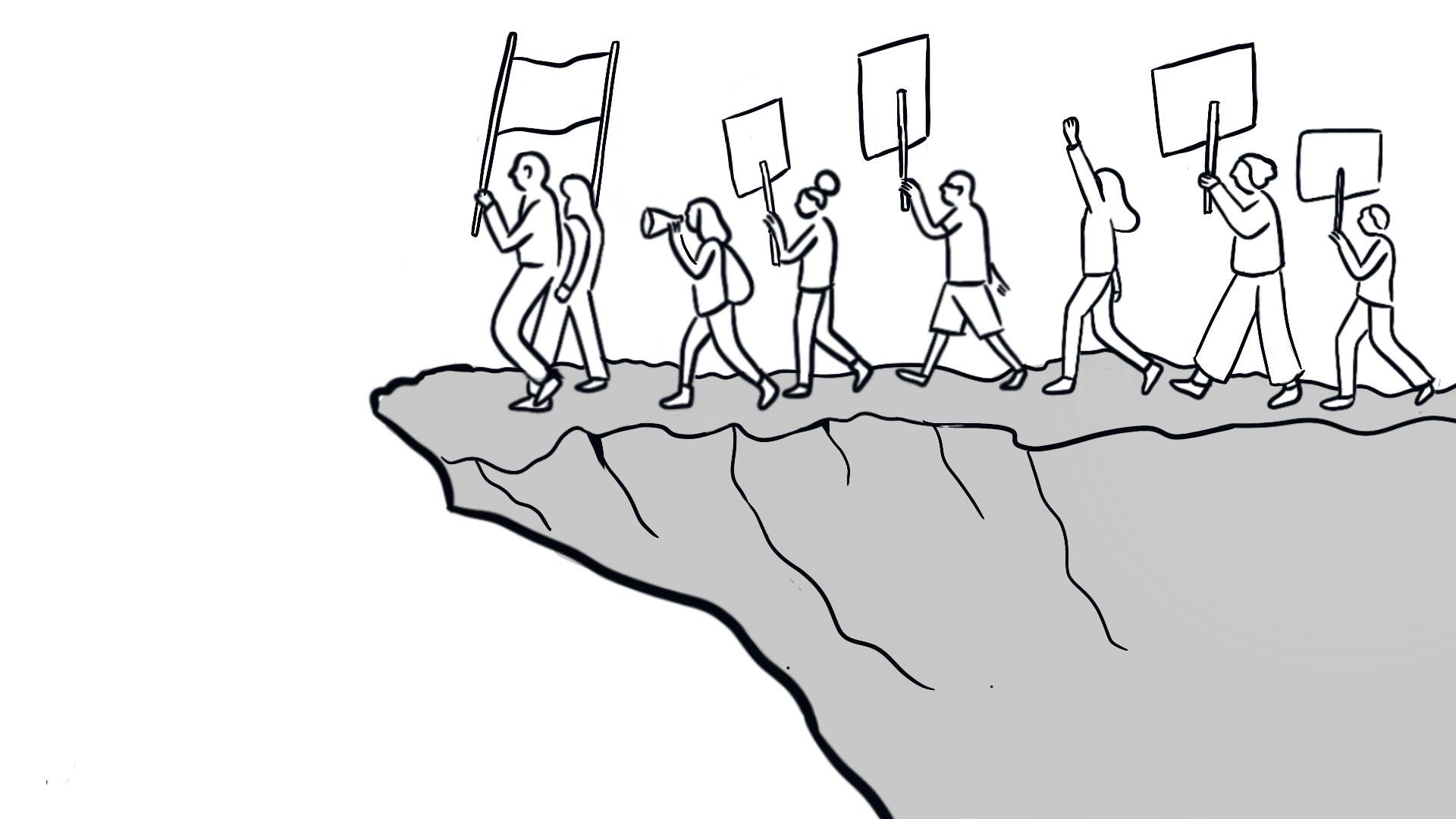 Struck
Audio Recording by George Hahn
Forty years ago, 190,000 British coal miners went on strike. The U.K. government, which owned the mines, met none of the strikers' demands. The strike ended a year later with the union gravely weakened. Over the next few years, the British coal industry dwindled to nearly nothing.
This month, TV and movie writers walked off the job, demanding higher pay and protections from technological disruption. I believe the Writers Guild of America, like the U.K.'s National Union of Mineworkers back in the '80s, has incorrectly assessed the situation and will exit the strike severely impaired.
Coal
There are real differences between the miners' and writers' strikes. The miners' strike was controversial within the union itself, and some regions refused to take part. In contrast, the Writers Guild voted 98% in support of this action. The media is fawning over the writers, as are Hollywood stars. Actors who command millions bringing coffee to writers who make $2,000 per episode of Jimmy Kimmel Live are just adorable. "We stand with you … please don't touch me." Anyway, the differences won't make a difference.
None of that solidarity matters, as British mining and scripted entertainment share one thing: Both were/are in structural decline and on the wrong end of a tsunami of alternatives. U.K. coal production peaked in 1913, and by the 1970s an erosion in demand had morphed into a collapse. The problem wasn't a lack of coal — the British Isles sit on a 300-million-year-old layer of carbonized jungle — but changing consumer preferences and surplus competition. Electrical generation shifted to cleaner North Sea natural gas, even as imported coal was undercutting Newcastle's finest on price.
The situation was so bad, the U.K. seized the mines to keep them running, as the operations were losing hundreds of millions of pounds per year. What prompted the final faceoff by the striking miners was existential — the planned closure of dozens of mines. They screamed at change, but progress wouldn't listen.
Somewhere Else
Today, entertainment is no less relevant than energy was in the 1980s. But we're increasingly getting it from somewhere other than a Hollywood writer's room. The rise of reality TV (birthed by a writers' strike in 1988) created an entire genre that relies less on writers. Cops, one of the first big reality shows, was conceived as content that could be produced during the strike.
Live sports are more popular than ever — 94 of the top 100 telecasts in 2022 were sporting events. Apple paid $2.5 billion to stream Major League Soccer and is rumored to be readying a bid for the Premier League. There's more of it to come: MLS, XFL, WNBA, PLL, hockey in Las Vegas. Even within the narrowing genre of scripted TV, there's the accumulated competition of history: Friends wrapped in 2004, but in 2015 Netflix paid $118 million to infinitely stream all 236 episodes.
The big threat isn't other TV … it's other than TV. Social media is, at its core, unscripted entertainment. YouTube has 122 million U.S. users every day, and YouTuber MrBeast has three times more subscribers than Hulu. But the biggest hands around the windpipe of scripted TV belong to TikTok. Short-form video, written and produced by amateurs, floods our lives by the gigabyte, endless in volume and variety — commanding 95 minutes a day of our attention.
The younger the viewer, the more they prefer TikTok to television. Stranded on a desert island with Wi-Fi and only one screen, two-thirds of Gen Z say they'd choose TikTok over the entirety of television and streaming. Put another way, writers shouldn't be picketing outside studios in Los Angeles, but Bytedance HQ in Beijing. Also, the culprit isn't some cartoon-villain studio exec, but your nephew who's never had cable and prefers to spend 45 minutes scrolling TikTok to paying $6.99 a month to watch The Witcher. He's never heard of Stephen Colbert.
It's tone-deaf to ask Dad for an increase in your allowance the week after he's lost his job. Comcast's gross margin has melted from 27% to 4% in the past five years. Disney's, from 16% to 4%. Warner Bros. Discovery, once a cash-generating titan, posted $7 billion in losses last year. Paramount lost $511 million last quarter on streaming and is cutting its workforce by 25%. Netflix is the only streamer that's been able to increase its margin, but subscriber growth has hit a wall — so it's cutting $300 million in costs. Of its existing viewership, 100 million are using passwords borrowed from friends/siblings/kids.
For Sale: Writer's Room, Barely Used
Similar to the miners watching the mines close, writers have felt winter coming for years. Adjusted for inflation, the median writer-producer salary has declined 23% in the past decade. Much of this is due to streaming. While a traditional 22-episode broadcast program guarantees writers 30 to 40 weeks of work, the average 10-episode streaming series only guarantees 20. And streamers pay writers little or nothing in "residuals" — payments received when a show goes into reruns and syndication, once a huge source of security in an insecure sector. Studios are also getting craftier about relying on junior writers, reducing the number of writers on a show, and barring writers from working on other shows for longer periods. Ten years ago a third of writers worked at what's called the "Minimum Basic Agreement," the minimum amount studios have to pay. Today half do.
In anticipation of the 1984 miner's strike, Thatcher built up massive coal reserves, key to breaking the strike. The staggering overinvestment in content that streamers engaged in over the past decade hammered profit margins, but also built a reservoir of shows consumers can't see beyond. I watch a lot of TV, but my Netflix queue will outlast the writer's strike fund by a decade.
Q: What do late-night TV and downtown office space have in common?
A:  Neither will recover.
Few kids grow up dreaming of being a miner. One sign of how fucked up our nation is? The most cited career American youth aspire to: "influencer," a creator who runs ads during their content. Entertainment professionals have always had to contend with bus and planeloads of hopeful young people arriving in LA and NYC. Now those millions arrive each day on people's phones.
The One Where a Robot Takes Your Job
On our Markets podcast this week, Prof G Media analyst Mia Silverio interviewed some of the picketing writers in New York. And they assured her that what they did, the magic of their creativity, was a distinctly human trait, not something AI could replicate. Their union isn't as confident as they are, though. One of the sticking points in the negotiations has been the use of AI. Specifically, the union wants to bar the studios from using it. While the writers have a valid point asking for a form of residuals from content that informs large language models/generative AI, asking studios to not use AI has the same probability of succeeding as demanding they give up texting and air-conditioning.
As with near-every technological innovation, AI will inspire job losses in the short run and then, over the long term, net job creation. Automation destroyed jobs on the factory floor, but at first we didn't see the jobs that heated seats and car stereos would create. There will be a plethora of new service providers in the streaming business that leverage AI. In addition, there is usually a "winner takes most" effect. A decent writer gets culled, a great writer earns more. In sum, AI won't take your job, but someone who understands AI will.
Pro tip: While you're on strike, let your Netflix queue grow and play with Notion AI.
The writers strike and its outcome will boil down to incentives and leverage. The studios need a pause that cauterizes their unsustainable spending. However, the break would need to be multilateral so no one company grabs share by maintaining those higher levels of investment. Enter the gift to end all gifts, providing the studios a recalibration of the economics of streaming without the risk of losing share. "I just don't feel a sense of urgency to end this strike," said every studio head.
Hand Speed
When I moved to New York, I began practicing yoga, believing I'd meet hot women and find inner peace. Neither happened, so I took up boxing. My trainer was "blown away" by my hand speed and suggested I enter a tournament. Twenty seconds into the first round of my first bout I was distracted by bright lights. They were the ceiling lights staring down on me, as I was flat on my back regaining consciousness. I had grossly miscalculated the parties involved and their relative strength. In 6 to 12 months, Hollywood writers will see the light. A light that inspires one question: What the fuck just happened?
Life is so rich,

P.S. Post is a social platform for real people, real news, and real conversations, founded by Noam Bardin. Also, I'm there (disclosure: investor). We publish No Mercy / No Malice on Post as well as sending it by email — you can see it there every week by following me.
P.P.S. If you're a leader worried about a pending recession, we're offering 100 free seats to our upcoming workshop: Recession-Proofing Your Business. Grab a seat before they're gone.
43 Comments